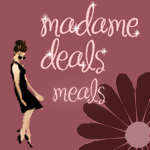 I try each week to tackle motherhood, working, owning a business and trying to be creative in the kitchen. I have come a long way from thinking you boil the water for 7 minutes then you add the pasta. We all have our strengths and weaknesses. I have just 30 minutes before the meltdown occur to get dinner on the table and have three happy children and one happy husband. The need for speed and healthy meals "within" the budget are my focus.
I am going to begin my once a month cooking series. I am taking back my life and not COOKING everynight. I am going to heat up what I spent one day making. I will show you pictures of the meals I made using the Once A Month Cooking Book. It is a steal at $10.00 and the dinners are easy and yummy. I suggest you find a friend and do 15 meals and she does 15 meals and you swap. I cooked 2 of each of the 15 meals one for me and one for her.
This is a spinach and sausage pie. All I have to do is put some cheese on it and pop it in the oven. You can find the recipe in this book.