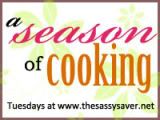 The Sassy Saver and Frugal Femina have joined forces every Tuesday to share seasonal recipes. One of the easiest ways to save money on food is to cook in season. Food that is in season will be at it's lowest price for the year. For example, right now things like citrus, avocados, broccoli and fixings for soup are in season. The item of the week for "A Season of Cooking" is Avocados.
I love avocados! Growing up in California they were plentiful and relatively cheap. Not so much here in Virginia. Depending on what part of the country you are in, avocados can range in price from .30¢ to over $2 each. Here in Virginia, they are $1 each right now but they usually range from $1.50-$2.
I found a Southwestern Turkey Soup recipe that calls for avocado. This recipe is fantastic as it can be adapted in many ways. Since I have leftover turkey, it is a perfect fit this week. This recipe is adapted from one I found at All Recipes.
Ingredients
1 1/2 cups shredded cooked turkey
4 cups vegetable broth or chicken broth
1 (28 ounce) can stewed tomatoes
1 (4 ounce) can chopped green chile peppers
1 can Corn, drained
1 onion, chopped
2 cloves garlic, crushed
1 tablespoon lime juice
1/2 teaspoon cayenne pepper
1/2 teaspoon ground cumin
salt and pepper to taste
1 avocado – peeled, pitted and diced
Tortilla chips
1 cup shredded Monterey Jack cheese

Directions

Combine all of the ingredients except for the avocados, tortilla chips and cheese. Place in a crock pot and cook on low for about 6 hours. Crush tortilla chips and place them in a bowl. Pour in soup and sprinkle with chopped avocados and cheese.

For variation use chicken, black beans or sliced corn tortillas.
This post is linked at Life as Mom.