This post brought to you by Walmart. All opinions are 100% mine.
It's an exciting time in my life right now.  In July, I became a first-time grandmother and since then my daughter has relied on my advice on issues from Baby B's sleeping habits, the reasons behind her cries, breastfeeding, and what kind of formula should she use.
If you're a parent, you know how much formula costs.  Name brand formulas such as Similac® and Enfamil®† can cost as much as $25 a can.
All is not lost and you do have options.  One of my favorites is Parent's Choice™ Infant Formula.  With formulations including Parent's Choice™ Advantage Powdered Formula, Parent's Choice™ Premium Powder Formula, Parent's Choice™ Gentle Powdered Formula, and Parent's Choice™ Sensitivity Powdered Formula, you can choose the formula that is best for your baby and save money in the process!  Parent's Choice Formulas are clinically proven to be as well tolerated as the national brands.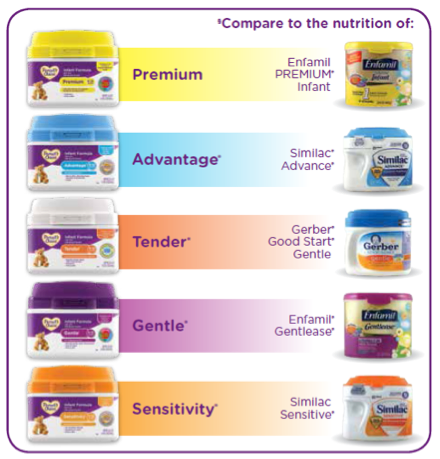 When my daughter (Baby B's mother) was eight months old, we made the switch from exclusive breastfeeding to formula.  We quickly figured out she did not tolerate many of the formulas on the market.  Fortunately, we eventually tried a formula which was the least bothersome to her delicate little insides.  That many years ago, our options were limited and I had no choice but to pay the price for the one formula which agreed with her.
The additional benefits of Parent's Choice™ Infant Formulas include:
Meets FDA standards like all infant formula
Contains DHA and ARA, which may support brain and eye development
Iron-fortified
Calcium for strong bones
Probiotics to support your babies' immune system
Take a moment to check out Walmart's selection of Parent's Choice™ Infant Formula and see how much you can save.  Here's what I found when I compared a popular name brand formula vs. the same formulation of Parent's Choice™ Formula.
Don't keep this opportunity to save a secret.  Head over to the Walmart site and share the Parent's Choice™ page.  I did!