How to Make Homemade pesto from basil
This is how you make homemade pesto from basil
You will need to grow or buy the ingredients. I have four basil plants growing in my garden that all started from a small living herb plant from the grocery store. I LOVE basil! I have been using it in my homemade spaghetti sauce, on sliced tomatoes and mozzarella and in homemade pesto.
How to make homemade pesto from basil
Since my basil is plentiful, I have been making basil pesto and freezing it. Pesto gives so much flavor to recipes and you only need a small amount to make a big impact. It is relatively easy to make and it freezes well. The nice thing about it is that the recipe is quite versatile. I guesstimate the measurements and just blend it to the consistency that I prefer.
Basil Pesto Recipe
2 cups fresh basil leaves, packed
1/2 cup Parmesan-Reggiano or Romano cheese (omit if freezing)
1/2 cup extra virgin olive oil
1/3 cup pine nuts or walnuts, chopped
3 garlic cloves, minced
Wash and pat dry basil leaves. Pour 1/4 cup Olive Oil in bottom of blender. Add in half of the basil leaves, garlic and chopped nuts. Pulse the blender a few times. Add the remaining basil leaves and olive oil. Pulse the blender again. If you are using the pesto fresh, add in the cheese and pulse.
If you are freezing the pesto, omit the cheese. Add the cheese after the pesto is defrosted and you are ready to use it.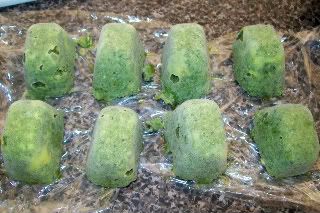 Fill an ice cube tray with the basil pesto to freeze. This is about the perfect size for adding some flavor into recipes! After the pesto cubes are solid, place in a freezer bag and express as much air as possible. I love to add pesto to my Garlic Shrimp. I also use it a lot on bread when I make my famous spaghetti sauce. Yes, You can have the recipe homemade spaghetti gravy. I promise having pesto frozen will make your life so much easier.  Homemade Pesto from basil is easy to make and healthy.
Recipes that use pesto
Low calorie Chicken Pesto Kabobs