Easter Centerpiece
I had a challenge from my team can you create an Easter centerpiece for $5. I am Madame Deals so here is my entry. I used the items below with the help of three assistants to create an amazing centerpiece or hostess gift.
Here is what I had peeps $2, $1 lollipop sticks (I still have some left), cookies $1.00 (I bought the mix at the $1 store), glass bead $1 , scrapbook paper $.15, $.25 floral block the egg and oil $.20. The vase was from an orchid I got last year. I always save my cool looking vases. I got the peeps for free they were sent to me from Bj's wholesale club. The pack of  50 peep is just $4.99. I know you have to buy yours so I used their price in my $5 challenge.
Easter Centerpiece
The first thing you are going to do is start putting the items on the sticks. I poked the cookies at the fattest part I could find. The I put the peeps on the sticks in singles and doubles.
This was a great centerpiece and a project to do with your kids. I love doing crafts with my kids and this was an easy one to accomplish! Then you will need to measure your scrap book paper and cut it to fit in the vase. YOu will need to add some in the back since it may not be long enough.
Then you will fold the paper a little bit so it stays in the vase. I added in the floral foam and then we put in our cookies and peep picks. The kids had a blast positioning them. This is part of letting them do what they want to do.
I just added a cute card that say's Hoppy Easter I figured this would make a super gift. If you are placing this on your table you do not need a card. I think it is so important to involve your children in your decorating efforts and what better than to cook and create things for less that $5. If you make things and use your imagination you can live on less.That reminds me have you seen my $5 savings plan it helped me put thousand back into my pocket and it made my mailbox magical when I achieved financial success.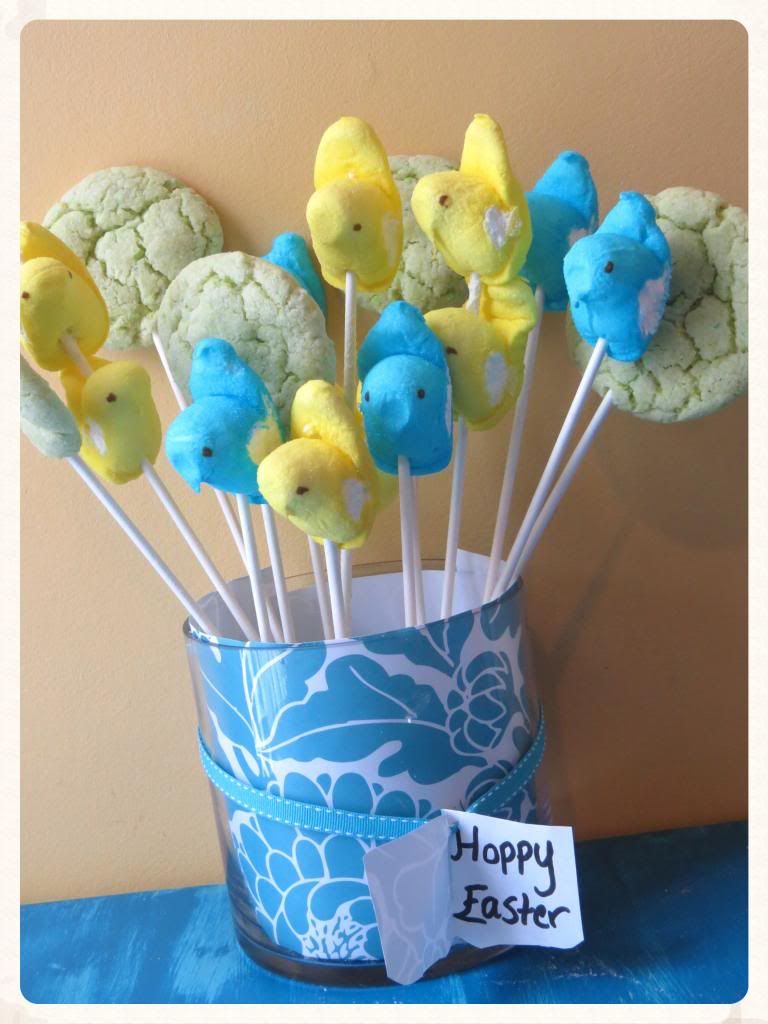 Check out our Easter page for other cute $5 Easter Centerpieces and our other Easter projects!
Topic: Easter Centerpiece