This is a Sponsored post written by me on behalf of Air Wick for SocialSpark. All opinions are 100% mine.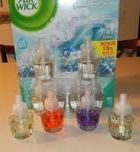 Sam's Clubs helps your home smell great for less. Let me tell you sweaty children, old sneakers, and pool towels live everywhere in my house. The best way to fight all of that is to purchase scented Airwick products .
Have you ever noticed how certain homes have a distinct smell?  Sometimes those smells can be pleasing while other times not so much.  New homes have the smell of fresh carpet, paint and wood while other homes may smell like last night's fish dinner or the remnants of the last fire in the fireplace or woodstove.  Whatever the origin of the smells, we want them to be inviting and pleasing to all those who spend time in our home.  
Having been a fan of scented candles I was skeptical to try the new AirWick scents.  I am no longer skeptical and have put the scented candles away.  Living in a relatively large home I was surprisingly impressed with the way the Airwick warming unit dispenses the scent throughout each level of my home.  The variety of scents allows you to customize the aroma to your liking or to a particular event.  For example if you are having a summer party you might like the Island Paradise, Samoa Sweet Coconut & Island Palms or the Sam's Club exclusive scent of Ocean Spray and Sparkling Sea Minerals.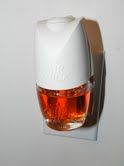 Other inviting aromas to consider are the Hawaii Exotic Papaya & Hibiscus Flower, Bright Citrus Splash, and Grand Canyon Cactus Flower & Warm Breeze.  For parents of small children who struggle going to sleep you might want to try the AirWick Lavender and Chamomile scent in their bedroom as lavender is known to relieve stress and calm the mind.  The new AirWick scent warmers will fill your home with long lasting pleasant aroma no matter which scent you choose.
Other awesome Reasons to Considering buying Airwick Products at Sam's club.
· VARIETY of scents available – A LOT to choose from
· TREMENDOUS VALUE – It's a 38% value vs. Walmarts EDLP on their 3 pack.
· NATIONAL PARKS Scents – Exclusive to Airwick, but LIMITED TIME ONLY
· Sam's club members can either have BONUS OIL or BONUS WARMER, their choice!
We love the new AirWick Scents they just make life smell better.