Ahhh, coupons. Love them! Of course you all know that since I write about them quite frequently. Looking through the eyes of my three year old, I see how much my couponing ways rub off even when I don't intentionally teach him.
So, you might be addicted to coupons if…
Your son asks you "Did you buy this on sale mom?" or "Do you have a coupon for that?"
Or how about when the mail comes and there is a sample. It's like Christmas for him…and you too! And when a coupon drops out of the sample package you will most likely here "MOM! It's a coooupon!" like it's made of gold.
Not to mention the little blinkie machines in stores that he can spot a mile away. Luckily there is a short delay after a coupon is pulled from those machines. You can easily explain that the coupons are all out and quickly move on before he tries to empty the whole thing.
Or how about when your little one cuts coloring pages into shapes. Yep, those are coupons he is making for you!
And when you ask your three year old why his clean clothes are in a pile on the floor…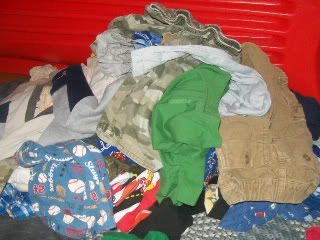 and he responds, "I'm stockpiling Mom!"; you just might be addicted to coupons!