6 Winners will receive a Kindle Fire and a $500 Amazon Gift Card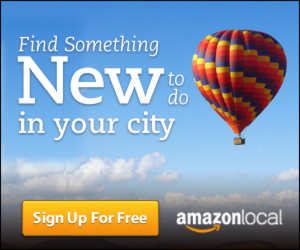 AmazonLocal has awesome deals to save and lately they have been awesome. AmazonLocal will deliver the news of these deals right to your mailbox. If you are not signed up you can do it now at AmazonLocal! Signing up is completely free. There is no obligation to purchase anything. Instead they let you know of the great discounts and deals available and you can choose to take advantage and browse at your leisure. They also offer deals on items at Amazon.com from time to time.
Now thru March 17th  AmazonLocal has a great sweepstakes on their Facebook page.  Six lucky winners will each win a Kindle Fire HD plus a $500 Amazon gift card!
Here's what you need to do to enter:
'Like' AmazonLocal on FacebookEnter to win on their Sweepstakes Tab
Head on over to AmazonLocal to enter.
You could be 1 of 6 winners to receive a Kindle Fire HD and a $500 Amazon Gift Card!

Topic: Amazon Gift Card