This is a Sponsored post written by me on behalf of White Cloud for SocialSpark. All opinions are 100% mine.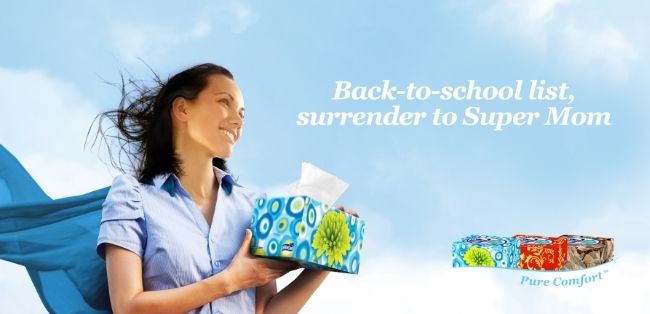 I just got back from school supply shopping and to say I was shock at what I spent was an understatement. I used coupons and I used the sales flyers and basically my credit card was also used. I bought the majority of my supplies at Walmart because it is easy. That brings us to the image above with the mom and the tissues. I also bought White Cloud Facial Tissue because it was reasonably priced and my daughter is going to kindergarten this year so I am going to need it.
I have to confess I bought the multiple pack because they were reasonably priced and with multiple kids and multiple teachers I needed multiple boxes. The also have a coupon for $.75 off. SCORE! They have the three or six packs available for purchase. I have been a long time fan of White Cloud paper products. They are soft and supple and frankly they do not tear easily. I use the toilet paper and I use the tissues for taking off my make up.
I believe that buying quality products at a great price is an important skill to teach your children. I know that I received a great value when I bought my White Cloud Tissues. I know the teachers will thank me. When you look at your school supply list look for the store that has White Cloud Products using the White Cloud Store Locator. I checked off all the items on my school list. It just made me feel better to get all the school shopping done. I am an empowered mom and consumer and I believe that making a list and taking care of it is empowering. I would suggest grabbing the White Cloud Tissue boxes the support the Children's Miracle Network. Then you can pay it forward to a child in need.
You can learn more about how White Cloud helps others on their social media channels so follow them on: