Slow Cooker Spinach and Artichoke Dip
December 15, 2013 at 2:02 pm
Written by Rachelle
Slow Cooker Spinach and Artichoke Dip
If you are looking for an easy (and delicious) appetizer for you next gathering then you will love my Slow Cooker Spinach and Artichoke Dip! This recipe is a set-it-and-forget-it type of recipe, and is sure to be a crowd pleaser.   You can also lighten this recipe up by bulking up the veggies, and using low fat cream cheese and mozzarella cheese! 
Here is how to make my Slow Cooker Spinach and Artichoke Dip:
Slow Cooker Spinach and Artichoke Dip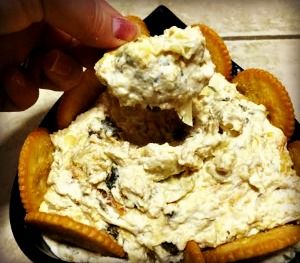 Ingredients
12 oz cream cheese
2 cups shredded mozzarella cheese
1 can artichoke hearts
12 oz spinach
1 clove of garlic, minced
salt and pepper to taste
1/4 cup of milk
Instructions
First, chop your spinach and artichoke hearts up, add them to your slow cooker
Cube your cream cheese and add it and your mozzarella cheese to the slow cooker
Then add your milk, garlic, and salt and pepper to your slow cooker
Cook on Low for 1 hour, then mix ingredients together and cook an additional hour.
Serve with crackers, pita chips, or veggie sticks!
http://madamedeals.com/slow-cooker-spinach-artichoke-dip-2/
Looking for more great recipes? Try these:
Topic: Slow Cooker Spinach and Artichoke Dip