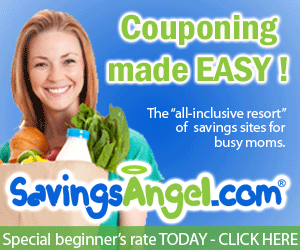 We're going to make an assumption here:  Our readers are busy … so busy that combing through sale flyers and coupons tends to be one of the first things which fall by the wayside in our busy lives.  Well, we have a solution for you.  It's SavingsAngel!
With SavingsAngel, you create your own customizable shopping lists from hundreds of weekly matchup deals, easily compare deals between stores, search for specific products or coupons, get personalized help for beginners and great tips for experts, and much more.  Let SavingsAngel help you save more time and money.  Start today for $20 risk free – your first four weeks are guaranteed and your 2nd four weeks are free.
Now is the best time to join SavingsAngel.  They just added a new Price Watcher service which allows you to pick your favorite stores, the products you use and how much you want to save. When a sale-coupon deal meets your savings target you get an email alert. Easily create a shopping list with your personalized matches, including the coupons you need for your deals. It'll save you hours of time each month, cut your grocery bill in half, and save you hundreds of dollars.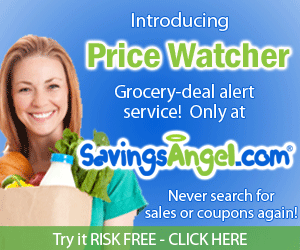 As busy as we all are these days, $20 a month is a small price to pay for a service which will save you so hundreds of dollars and hours of precious time.  After all, TIME IS MONEY!
Check out a few testimonials here.