Save up to 75% at DoggyLoot.com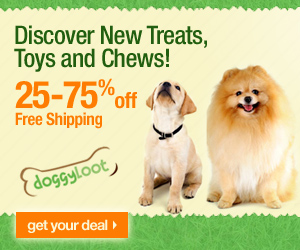 DoggyLoot.com is the top flash sales site for dogs and dog owners, offering discounts on dog-related products to members nationwide. DoggyLoot.com runs several deals each day on dog toys, treats, accessories and more, all at 25% to 75% off with FREE SHIPPING on every order.
Tell your friends! We'll give you $10 for each friend that makes a purchase, and your friends will get $5 as a gift from you for signing up!
Click the picture above to submit your email and get the best deals delivered to your email box!
Check out what I found of DoggyLoot.com
How cute are these!? Only $19 with FREE shipping on Doggyloot.com!