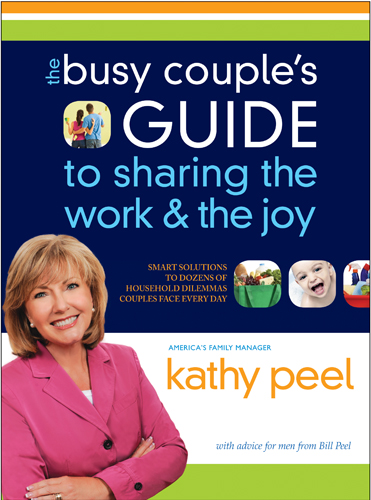 The Busy Couple's Guide to Sharing the Work and the Joy by Kathy Peel

Publisher: Tyndale House
Price: Softcover $16.99
Author Bio (from Tyndale Site)
Since Madame Deals was created, I have been one busy lady! In some aspects, my husband and I have had a bit of a role reversal. I can't keep up with all of the daily household needs, the boys, the cooking, the finances, my work at the dental office and this blog. Now, I type away in the evenings and my husband takes care of cleaning the kitchen and the laundry. Our system is far from perfect. To the rescue-  The Busy Couple's Guide to Sharing the Work and the Joy.
In The Busy Couple's Guide, Peel suggests that you think of a family from an organization standpoint. Respect for each other and the "family organization" are key. One of the things that Peel makes clear is that it doesn't work well to claim a 50-50 split of the chores. No doubt, someone will feel that one or the other is doing less than there 50%. It is all about communication and organization. Peel suggests seven family manager departments: time & scheduling, home & property, menus & meals, family & friends, finances, special events and self-management. Throughout the book you will find charts, worksheets and tips to help manage these categories.
Sharing the household duties and chores can be frustrating at times. It seems that the chores are never done the "right" way. In The Busy Couple's Guide, Peel points out that most arguments stem from growing up with different ideas of normal. My normal way of doing things is certainly not my husbands normal. I am very much a perfectionist and my husband is laid back. Peel suggests sitting down and communicating your differences and expectations. From there, negotiate and make a "new normal" for the family.
There is also a great managing your finances portion to this book. Peel suggests setting a financial policy. I think this is a must for becoming debt free. She also gives suggestions for low cost family fun. There are several tips for working through financial hardship.
One of the things I really enjoyed about The Busy Couple's Guide is the "Good to Know", "From the Heart" and "Smart Move"  tips on the side of the page. Some are little facts like: "New parents typically lose between 400 to 750 hours of sleep during baby's first year." WOW! No wonder I have mommy brain- I am sleep deprived! Other side notes are tips like: "Bringing lunch from home a couple of days a week can mean a potential savings of $1,000 a year".
The Busy Couple's Guide to Sharing the Work and the Joy is a great reference guide. It is jam packed full of tips to make your family run more efficiently. I am glad to implement some of the suggestions in the book to help my husband and I communicate better. I think this book is perfect for couples in all stages of marriage- newlyweds to married for decades who are still struggling with communication and household organization.
The Busy Couple's Guide to Sharing the Work and the Joy
 is available from Amazon for $12.23.
This is a Mama Bzz Review. I was provided a copy of the book from Tyndale House free of charge for purposes of this review. I was not compensated in any other way.