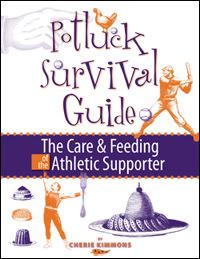 I had the opportunity to review the cookbook Potluck Survival Guide: The Care & Feeding of the Athletic Supporter by Cherie Kimmons. I love cookbooks and I have an assortment of them! I have to say that most recently, I have found most of my go to recipes online. I was eager to find out what the Potluck Survival Guide had to offer and I was pleasantly surprised!
Now, my children are not involved in athletics yet. I know that it is in our near future though. I found that the Potluck Survival Guide isn't just for athletes or sporting events. Really anyone making a meal for a large crowd needs this book!
The Potluck Survival Guide is more than just a cookbook. It offers tips on feeding children healthy options, kid friendly recipes, menu planning for athletes, buffett tips and how to calculate quantities. My favorite part of the book is the authors notes. Almost all of the recipes have a notes section with variations, tips and modifications. This is a great tool for a beginning cook or someone who fears straying from the directions!
The recipes are easy and most call for everyday ingredients. I am also impressed with how many recipes have six or under ingredients! That means you can can whip them up quick! Here are some of my favorites:
Warmed Cranberry Brie (I love Brie!)
Chicken Spaghetti
Sausage Cheese Muffins
Caramel Coffee Cake
Butternut Squash Casserole
Hungry Yet?
You can order your own copy of Potluck Survival Guide from Five Star Publications for $18.96. Regular retail for this wonderful manual of a cookbook is $24.95.
This would make an excellent gift for an experienced or beginner cook!
This is a Mama Bzz Review. I was provided a complimentary copy of the book from Five Star Publications for purposes of this review.