Play FREE games, win REAL prizes, at Gamesville.com
I just found an awesome website where you can play fun online games like Bingo, Scrabble, and poker for FREE, and Win REAL prizes! The games at Gamesville.com are super fun and easy, and you can play for real prizes! Sign up is quick (you just create a username, password, and enter your email) and FREE! You must be 18 or over to play.
Are you ready to play fun games, and win great prizes at Gamesville.com?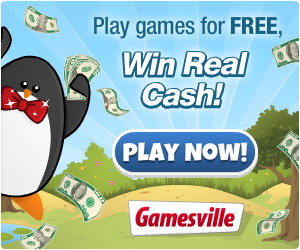 Click the image above to sign up for FREE today, and get to playing at Gamesville.com!