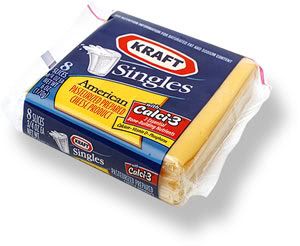 Woohoo! There is a new Kraft Cheese & Dairy catalina offer coming up that will pair nicely with the Mega Event at Kroger. The catalina does not start until next week. If you are planing on buying cheese for your stockpile, you may want to hold off until next week!
Kraft Cheese & Dairy Products
Get $5 OYNO wyb 5+ participating items, plus Kraft will donate 5 meals to Feeding America
— Kraft singles
— Kraft parm cheese
— Kraft Natural cheese chunks, shredded, crumles (5 oz.+)
— Kraft String um cheese
— Kraft Cracker cuts
— Kraft Deluxe deli
— Kraft Philly cream cheese
— Vevleeta
— Cracker barrell (5 oz.)
— Cheez whiz
— Breakstones sour cream or cottage cheese (16 oz.)
— Knudsen sour cream or cottage cheese
**7/19/10  until 8/15/10
Deal Scenario
Buy (5) Kraft Cheese at $0.99
Use (2) $1/2 Kraft Singles Tearpad coupons
Better than FREE after coupons and catalina wyb 5 other Mega Event items!
Remember the Mega Event items will be the same as listed this week. Hopefully there will be a few new coupons though!