Clean out your kids closet and get paid for it with Kindermint!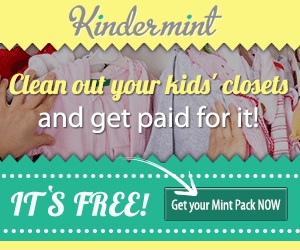 We all know that kids grow like weeds, and we constantly have an endless supply of clothes that don't fit anymore! Why not get paid for those gently used clothes? With Kindermint it's easy to cash in on your childs clothes! It's simple process too!
1. Order a free MINT PACK from Kindermint
2. Stuff the MINT PACK full of kids clothes you wish to sell
3. Drop the Pre-Paid MINT PACK in the mail (UPS or USPS)
4. Cash in! Your choice of check or deposit to your PayPal account.
It's as simple as that! Pack your Mint Pack box full of your childs gently used clothing, and get paid for it! If your clothing doesn't qualify for payment, they will send you a donation slip for a tax write off, and donate the clothing! Sign up is simple and FREE! Click the image above to sign up today!! I just ordered mine