Eversave is an awesome website that coupons, online, and local deals, and right now, a $10,000 Sweepstakes!
Eversave is FREE to sign up for, and always has great online and local deals! When you sign up, Eversave will take you through a few pages of offers, (which you can skip if you aren't interested) and then be taken to a home page, which will confirm your entry for the $10,000 sweepstakes, and show you some great deals!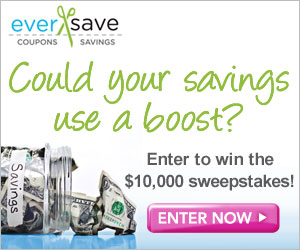 Click the photo above to sign up for Eversave, and be entered to win $10,000! Good luck!