This is a Sponsored post written by me on behalf of White Cloud. All opinions are 100% mine.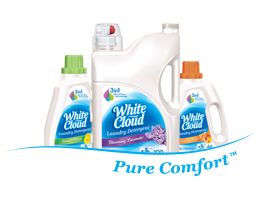 I tried the new White Cloud Blooming Lavender scent Laundry Detergent. I thought the lavender scent was perfect it wasn't overwhelming. It was comforting to me since I use lavender lotion before bed. I wasn't sure if this delicate smelling detergent was tough enough to handle my children.
It was the first day summer and we celebrated with candy apples and sprinkles. Well my little celebrators missed their mouth and stained their shirts. I thought I would try
White Cloud
and see if it could handle everything my children could throw, spill, and drop on their clothes.
Below is the photo of the stained shirt
The detergent was easy to pour and I found out that it was safe for my normal washer, so it is ready to test. I applied my normal amount and packed my washer just like I always do. I left the room and came back 20 minutes later to an amazing smell.
Result before dryer
I was afraid to open the washer. I mean my kids are pretty tough and often the stains they make have to result in using dye to color the clothing. I was surprised to see all the red candy apple stain gone. The sprinkles were no longer sprinkling the front of the shirt. The shirt retained its shape. It also smelled divine. I was happy to say this episode of laundry impossible was met with just the right amount of scent and power to take on our first snack of summer.
Final result, stains all gone!
Did you know that in less than six months of launching White Cloud's new Laundry Detergent, a leading consumer magazine has already named White Cloud Laundry Detergent as #1 in value and #6 in cleaning. The secret of dealing with tough stains is the stain fighting difference of 3-in-1 Micro Clean Technology from new White Cloud Laundry Detergent. Composed of an enzyme-based formula to get out even the toughest stains, the 3-in-1 Micro Clean Technology contains a pre-treater, stain remover, and color booster all in one. With three aromatic scents – Blooming Lavender, Summer Breeze, and Tropical Fiesta. White Cloud Laundry Detergent comes in both liquid and powder form, in 100 and 150-ounce sizes in liquid and a 156-ounce box in powder.
Do you
Dare to Compare
? Accept the challenge and try the product now by taking advantage of the high-value $2 Off White Cloud Laundry Detergent coupon offer. Get the
coupon
now and check out the
Store Locator
for the store near you.
White Cloud is well known for their family of soft and strong Bath Tissue, Facial Tissue and Paper Towels. Now they offer a new line of Laundry Care products.
White Cloud
household products are available at Walmart.
Disclaimer: Limit one coupon per purchase on product specified. No cash back if coupon value is higher than purchase price. Void if reproduced, transferred, used to purchase products for resale or where prohibited/regulated by law. Not valid on trial sizes. Consumer pays sales tax. Redeemable at participating retail stores. Valid only in the U.S.