Get 50% off tickets for live entertainment and sports in your city by joining GoldStar for free!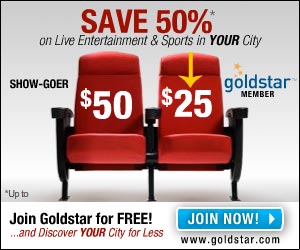 Click the picture above to  sign up for the email list today to get fun ideas, half-price tickets, member review and everything you need for a great night out, at GoldStar!
You can also  invite your friends to Goldstar and when they join you'll receive a $1 service credit too.
Check out the awesome deal I just found on GoldStar
Wicked tickets for only $49.50 on Goldstar!
Sign up today for FREE to check out what deals you can find on GoldStar!