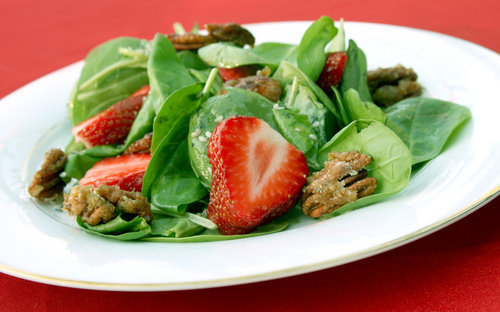 Do you want to try the best EVER salad? You will literally want to lick the bowl after you try this recipe. It is not a frugal recipe, but I love serving it when I can get all the ingredients on sale. This salad pairs nicely with fresh fish.
Prices are based on the 02/23 Farm Fresh weekly ad.

Strawberry Spinach Salad
Dressing:
1 lemon
2 tablespoons white wine vinegar
1/3 cup granulated sugar
1 tablespoon vegetable oil
1 teaspoon poppy seeds
Salad:
1/4 cup sliced natural almonds, toasted
8 ounces (1 1/2 cups) strawberries, hulled and quartered
1/2 medium cucumber, sliced and cut in half
1/4 small red onion, sliced into thin wedges (1/4 cup)
1 (6 ounce) package baby spinach

Directions:
1. For dressing, zest lemon using Lemon Zester/Scorer to measure 1/2 teaspoon zest. Juice lemon using Juicer to measure 2 tablespoons juice. Combine zest, juice, vinegar, sugar, oil and poppy seeds in Small Batter Bowl. Whisk until well blended using Mini-Whipper. Cover; refrigerate until ready to use.
2. Heat oven to 350° F. For salad, spread almonds in single layer over bottom of Small Bar Pan. Bake 10 – 12 minutes or until lightly toasted. Remove from oven; cool almonds in bar pan.
3. Meanwhile, hull strawberries using Cook's Corer; cut strawberries into quarters.
4. Score cucumber lengthwise using Lemon Zester/Scorer; remove seeds using The Corer. Using Ultimate Slice & Grate fitted with v-shaped blade, slice cucumber; cut slices in half/ Slice onion into thin wedges.
5. Place spinach in large serving bowl; add strawberries, cucumber and onion. Whisk dressing; pour over salad, gently tossing to coat using 3-Way Tongs. Sprinkle with almonds. Serve immediately.
yield: 10 Servings
*I don't think I've ever added the poppy seeds
Price breakdown:
Lemon $0.79
Strawberries $2.49
Baking Classics Sliced Almonds $1 ($0.50)
Cucumber $0.79
Small Red Onion $1.49 (0.75)
Baby Spinach $2
Assume have other ingredients on hand
Total cost: $7.32
This is a recipe from the Pampered Chef Casual Cooking Cookbook
Photo Credit: Facebook
Thanks to The Coupon Challenge for this yummy recipe! Check out the Farm Fresh deals here!