UPDATE: Giveaway over! Winner announced on the Contest page!
I mentioned that I am a VTech Voices Blogger and I will be writing about the V.Reader for the next few weeks. The goal is to get your kids reading more!
Last weeks challenge was to find a favorite reading spot. This week, we want you to create a family reading night. Come up with a fun theme as a family. Spend the evening cuddled up reading your favorite books and then throw in some new adventurous books. Reading with your kids is a great bonding activity. Plus, reading as a family will encourage your kids to read more. Set a good example for your kids by having them watch you read.
We read as a family most nights before bed. Tonight we started reading with the V.Reader before dinner! As we unloaded from the car, Mason could see that FedEx had left a package. He was so excited and said "I hope it is a new game for my reader!" Sure enough, it was! We received Dora and the Three Little Pigs for the V.Reader.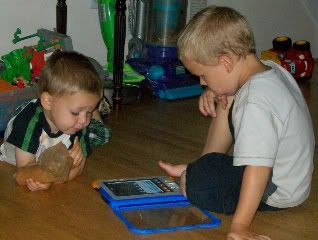 My boys could not wait to open it! In fact they sat right on the kitchen floor as I made dinner and read with the V.Reader. I am not sure why my boys pick the floor to read- it seems uncomfortable to me (and we do have furniture!). The boys love the animated books. I am amazed at how much Mason (he is 3) is learning in such a short period. He has learned all of the letters in his name by using the V.Reader. This is bonus learning and not an actual game on the V.Reader. The first time you turn on the V.Reader it asks the user to type in their name. I helped Mason type and now he wants to re-input his name each time he turns on the V.Reader! He knows all of the steps to get to the name page, delete his old name, retype and then save. Now, his letters are not all in order yet, but he is working on it!
We can't wait to see what the next challenge will be!
---
Giveaway
Now is your chance to try out the V.Reader! One Madame Deals reader will win a V.Reader ($59.99 value) and a game to go with it. The winner will be chosen at random on July 16th, 2010 at 10 pm.
To enter, create a family reading night and then leave a comment on this post telling us about it. Be creative and have fun!
For a bonus entry, follow Madame Deals by RSS, email, twitter or facebook. If you already do, leave a comment letting us know.
For a second bonus entry, follow VTech on twitter or facebook. Leave a comment letting us know!
Please leave a separate comment for each entry!
This is a sponsored post written by me on behalf of VTech and The Motherhood. All opinions expressed are mine.