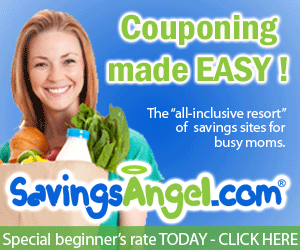 Too busy to clip coupons and find deals? The new Price Watcher service at SavingsAngel.com allows you to pick your favorite stores, the products you use and how much you want to save. When a sale-coupon deal meets your savings target you get an email alert. Easily create a shopping list with your personalized matches, including the coupons you need for your deals. It'll save you hours of time each month, cut your grocery bill in half, and save you hundreds of dollars.
Price Watcher is brand new technology not available anywhere but SavingsAngel.com — the most advanced yet easy-to-use grocery-deals service on the Internet. With your SavingsAngel membership, you can create your customizable shopping lists from hundreds of weekly matchup deals, easily compare deals between stores, search for specific products or coupons, get personalized help for beginners and great tips for experts, and much more. Let SavingsAngel help you save more time and money.
Start today for $20 risk free – your first four weeks are guaranteed and your 2nd four weeks are free.