This post brought to you by Comfort Zone® products. All opinions are 100% mine.
We've always had at least one, if not two cats, as members of our family.  When we first moved into our last home, we only had one cat.  We call Amaretto a queen bee.  She's an alpha kitty tortoise shell calico who loves up on everyone who happens to be around and who is social beyond your typical cat.
Not long after we moved into this house, we acquired a second cat, Miley.  Miley was another rescue kitty who spent the first few months of her life in a cage at the SPCA.  Needless to say, it took almost a year to "socialize" her to the point where she wouldn't run and hide anytime anyone came around.  Over the last few years, she has become something of a "lap" cat enjoying time tightly curled up on the lap of whoever is sitting on the sofa watching television.  However, Amaretto and Miley have never really gotten along.  Miley wants to play and Amaretto is just too sophisticated for such antics.  After all, Amaretto has a royal reputation to maintain.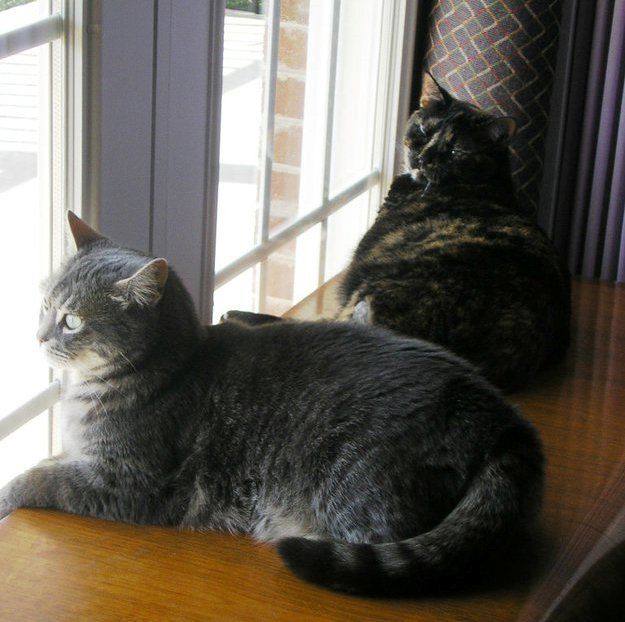 We recently moved out of this house and into a new place.  Anyone who has ever moved with pets knows they can get stressed when their environment changes.  The stress caused by this change tends to trigger pets to misbehave.   Well, our cats appeared to be adapting well until I noticed one of them had decided the entrance to the litter box was the place to do her business rather than inside the box.   We had to do something.
That's where Comfort Zone® with Feliway® products came into the picture.  The list of benefits was just what we were looking for:
Comfort Zone® products help reduce stress-related behavior in cats by mimicking their natural pheromones that help them feel calm and comfortable in their environment.
Comfort Zone® products are 95% effective at reducing scratching and urine marking for cats.
Comfort Zone® with Feliway® products for cats help control destructive urine marking and scratching associated with fear or stressful situations.
The Comfort Zone® with Feliway® Diffuser continuously releases an odorless vapor that mimics the soothing feline facial pheromone. Plug it in where your cat spends most of its time to keep it calm.
Comfort Zone® with Feliway® Diffuser is also great for use in multi-cat households to help keep them all relaxed around each other.
Comfort Zone® with Feliway® Spray is easy and convenient to spray in an area where a cat has recently marked or scratched. It's also good to spray in a crate to help cats remain calm during travel.
Comfort Zone® with Feliway® for cats is available in a diffuser or spray for use in home or during travel.
After using both the Comfort Zone® with Feliway® Diffuser and Comfort Zone® with Feliway® Spray for the past six weeks, things are much better.  We figured out it was Miley (our rogue kitty) who was "missing" the box.  She's now using the box on a consistent basis and has only missed it a few times.
You can learn more by visiting www.petcomfortzone.com or Facebook.
Comfort Zone® with Feliway®Comfort Zone® with Feliway®