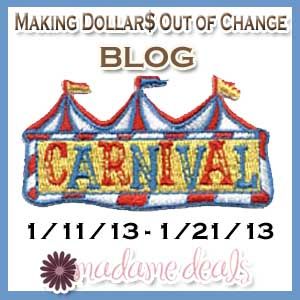 Dear Bloggers,
This is the year of content. The best part about being a blogger is sharing all the wonderful and powerful content we have all written. I would like to invite you to my first blog carnival. The carnival will run from  1/11/13- 1/21/13. The concept it simple on Friday January 11th at 9:00 am EST I will put up a linky. In the linky you will place your favorite Money Savings article. The Linky will close Sunday Morning at 9:00 am EST. I will ask that you only add one article per blog.
I am also asking that you do these three things:
1) Share this post the more the merrier. You can grab this button code or just use the social shares below.
2) Comment on at least 10 blog posts during the duration of the event. We need to support one another and I am positive we could all benefit from the wonderful advice of our fellow bloggers.
3) Invite your readers to read the posts on the blog carnival.

Grab the Blog Carnival Button
FREE

COACH

PURSE

EVENT

Below
HERE IS THE CODE FOR THE BLOG CARNIVAL POST: 
https://docs.google.com/document/d/1GJa49alWudAs07J58rfLEh50y0uiJm9dysS8SZeDrG0/edit  <——-