I am constantly taking Screenshots for publishing pictures on my site. Screenshots are fast and convenient for getting just the right image to share a coupon, free offer or store deal. I probably take at least 3 or more per day!
What is a screenshot? Capturing something shown on your computer screen to a static image file. You are taking a snapshot (or picture) of your computer screen.
I worked on a PC for years. I was proficient at taking Screenshots on a PC but had to use a free software program. The software was worked just fine – until I purchased a Mac. WOW! Mac's are an entirely different world! A Mac takes some getting used to, but I no longer need additional software to take my screenshots.
On a Mac, simply hit Command-Shift-3 and your screenshot will magically appear on your desktop. It's that easy! Open your screenshot in preview and you can crop out the image you want to use.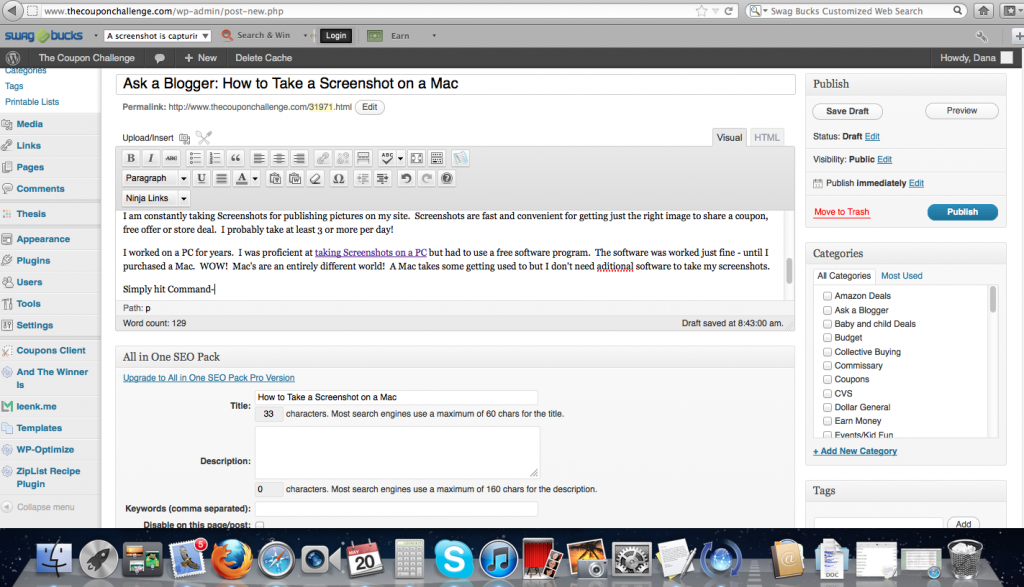 Do you use a PC or a Mac?
To search for all of our  Ask A Blogger articles click here.
Please help us run this site. Below are referral links, I will get paid a small amount if you sign up. I have tried and tested these sites and I recommend them!
Social Spark | My Savings | Escalate Media | Coupons.com | We Use Coupons | My Likes | Magpie | Commission Junction | Linkshare | Ebates | Shop at Home | Swagbucks | Living Social | Groupon | Eversave | Mamapedia | Jasmere | Buy with Me | Cellfire | Host Gator | SmartSource | Sponsored Reviews | Living Social | Deal On | Flex Offers
Need hosting, MadameDeals uses LiquidWeb and Storm on Demand.
The site that helps me pay the bills MySavings Media- Quality Offers – Top Payouts and the Software I use to keep track of it all QuickBooks Online Simple Start
.
CHEAP blogger advertising click here.
Earn Money from Home – These sites have been reviewed by real people just like you check it out.