Pinterest is all the rage right now. Showing off your pics can help get traffic to your site and in turn, potentially increase your revenue.
Adding a Pinterest Tab to your Facebook Page can help get your Pinterest Page in front of your fans and hopefully, get them repining your photos.
How to Set Up a Facebook Pinterest Tab:
Sign up for a Pinterest account if you haven't already.
Go to https://apps.facebook.com/iframehost-pin/to install a Static IFRAME Tab.
Click "Install Page Tab" or click on an icon to install a tab with the icon. (I chose to add a static Pin icon)
Authorize the Application and choose your Page to add the app.
Click "Add Static IFRAME Tab".
You will be redirected to your Facebook Page.
To complete your tab setup – click on the new tab link on the left hand side of the page.
You will be required to "Authorize the Tab Application" again.
Under "Page Source" Select "URL" and enter your Pinterest page link (this will load the URL in the iframe window).
Change the height of your page to remove the scroll bar. Mine is set to 1400px, but you may need to increase it if you have more boards.
Name your Tab (I choose PINTEREST).
Click "Save Settings".
View your new Pinterest tab and make adjustments as needed.
Make sure to follow The Coupon Challenge on Pinterest and Madame Deals on Pinterest!
***You may also add a custom icon to your Pinterest Page by following the instructions HERE. You would start with #7 above after following the Help instructions for a custom icon. After writing this post, I changed to a custom Pinterest Icon. You can view our custom icon on The Coupon Challenge Facebook Page and Madame Deals Facebook Page.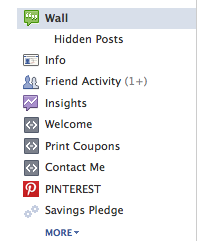 To search for all of our  Ask A Blogger articles click here.
Please help us run this site. Below are referral links, I will get paid a small amount if you sign up. I have tried and tested these sites and I recommend them!
Social Spark | My Savings | Escalate Media | Coupons.com | We Use Coupons | My Likes | Magpie | Commission Junction | Linkshare | Ebates | Shop at Home | Swagbucks | Living Social | Groupon | Eversave | Mamapedia | Jasmere | Buy with Me | Cellfire | Host Gator | SmartSource | Sponsored Reviews | Living Social | Deal On
The site that helps me pay the bills MySavings Media- Quality Offers – Top Payouts and the Software I use to keep track of it all QuickBooks Online Simple Start
.
CHEAP blogger advertising click here.
Earn Money from Home – These sites have been reviewed by real people just like you check it out.