A fellow blogger asked me a question yesterday that I thought others might run across as well. The question arose from a requirement set forth in the terms for a sponsored post.
How do you make an image click through to a specific URL?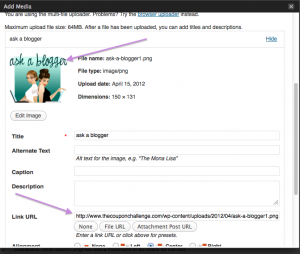 1. Add the image into your Post Editor.
2. Look for the Link URL and change it to your desired URL.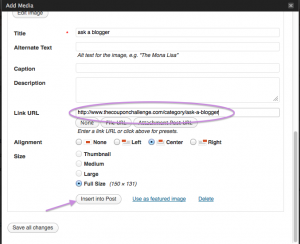 3. Click to "Insert into Post."
4. Preview your post and test the link to verify the URL is directing correctly.
It's that easy!
I've been required to change the image URL in a sponsored post using the required campaign image. I would NOT change the image URL of a photo that I owned the rights to and have it be directed away from my page to a sponsors page.
To search for all of our  Ask A Blogger articles click here.
Please help us run this site. Below are referral links, I will get paid a small amount if you sign up. I have tried and tested these sites and I recommend them!
Social Spark | My Savings | Escalate Media | Coupons.com | We Use Coupons | My Likes | Magpie | Commission Junction | Linkshare | Ebates | Shop at Home | Swagbucks | Living Social | Groupon | Eversave | Mamapedia | Jasmere | Buy with Me | Cellfire | Host Gator | SmartSource | Sponsored Reviews | Living Social | Deal On | Flex Offers
Need hosting, MadameDeals uses LiquidWeb and Storm on Demand.
The site that helps me pay the bills MySavings Media- Quality Offers – Top Payouts and the Software I use to keep track of it all QuickBooks Online Simple Start
.
CHEAP blogger advertising click here.
Earn Money from Home – These sites have been reviewed by real people just like you check it out.