This post brought to you by ALPO® Brand Dog Food. All opinions are 100% mine.
ALPO® Chop House Dog Food Review
If you love your dog, and care about what you are feeding them, then you need to check out ALPO's variety dog food, including their new ALPO® Chop House Dog Food! Not only will it have you pups tail wagging at how good it tastes, but it will make you happy knowing that each can is 100% complete and balanced!ALPO® foods help support a happy, healthy life, a shiny coat,and strong bones and teeth! I don't know about you but these are things I love to hear when deciding what to feed my YorkiePom, Sookie!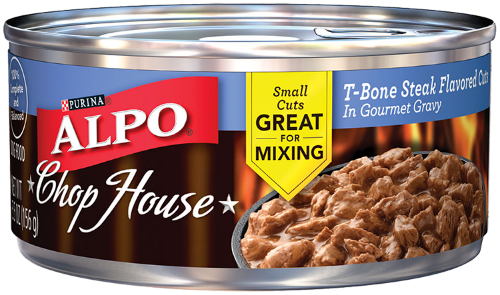 So what did Sookie think of the ALPO® Chop House Dog Food?
Normally, Sookie is used to eating dry food, and she knows that when she gets wet food it's a special treat. When I first sat the bowl down she wasn't sure what to think, but as soon as she got a wiff of the Tbone Steak ALPO® Chop House Dog Food flavor, she dug right in! ALPO® Chop House comes in small cuts or finely ground that is great for mixing with dry food. Also, ALPO Chop House 5.5 oz. is a compact can great for small dogs like Sookie! The ALPO® Chop House Dog Food is offered in unique flavors such as T-Bone Steak (Sookies Favorite), Tender Cuts with Lamb, Filet Mignon, and Rotisserie Chicken Flavored Cuts. They are sure to make your dog wag their tale and clean their bowl!
Want to learn more about ALPO® Chop House Dog Food?
Make sure to visit the ALPO's Facebook Page to find out more about all that ALPO® has to offer and nutrition facts! Also make sure to check out the ALPO® on Instagram. for funny videos and cute ALPO dogs!